ICYMI: Scott Discusses China's Spy Balloon and Record Inflation on "Fox & Friends" Ahead of the State of the Union
WASHINGTON – Today, U.S. Senator Tim Scott (R-S.C.) joined Brian Kilmeade on Fox & Friends to discuss growing Chinese aggression and economic decline in anticipation of President Biden's State of the Union address this evening.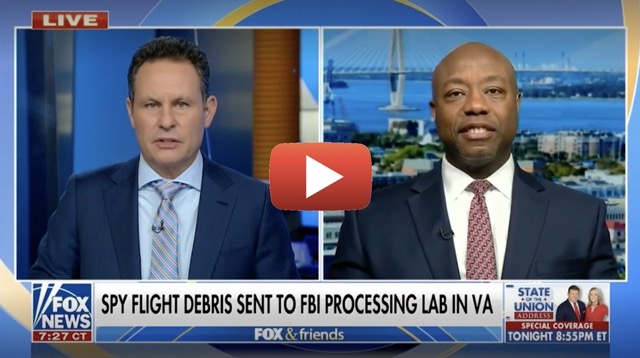 Click here to watch the full interview.
On the Biden administration's weak response to China's spy balloon invading American territory… "They had an opportunity to act and they let it pass by….It was literally a dereliction of duty to wait six or seven days before he acted. That is not in the American people's best interest. What's in our best interest is to take our enemy and adversaries and take action against them as soon as possible. That did not happen."
On what he expects to hear in President Biden's State of the Union address … "I think he'll say that 573,000 jobs last month was a record. What he won't tell us is what we see with our own eyes – that 13 and a half percent inflation has eroded our spending power. What he won't talk about is how gas is over 40%, electricity up 20% plus. He's going to give us a song and dance show to tell the American people things are better than what we think they are. They are exactly as we see that they are."
On the Democrats' failed leadership … "Gas is high, electricity is high. Eggs in California are almost $10. We have to do better. We deserve better. That means we need a change in leadership in order for us to put America back on the right path."
On American exceptionalism … "American greatness starts with our people, not the government. That's why we are unleashing economic opportunity throughout this country by making sure American entrepreneurs have all the tools they need."