ICYMI: Scott Interview on Serving South Carolinians
WASHINGTON – U.S. Senator Tim Scott sat down with Fox 46, Queen City News, to discuss how he is serving South Carolinians in the United States Senate. The interview highlighted how Sen. Scott has kept his promises to address voter concerns, work in a bipartisan manner, and deliver on behalf of his constituents.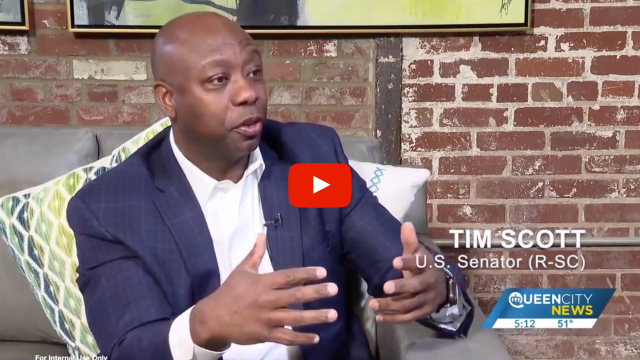 Click to watch the full segment
On why he strives to serve others … "I had a great mentor — a guy named John Moniz. He was a citadel graduate. He was running a Chick-fil-A in the Northwoods mall. And one of the lessons that the taught me was that, 'Tim, you have to take responsibility for yourself, and after you do that, the first thing you should do is not ask someone to help you, but find ways to help them.'"
On remaining accessible for his constituents … "The people still have a chance to come and pull on my jacket or, say, tap me on the back when I'm at the gym. … I'm a hometown kind of senator, so I'm always out and about through my community and throughout the state. So for me, it's been easy to stay in touch because I live in South Carolina. I don't live in DC."
On his work to fund Historically Black Colleges and Universities (HBCUs) … "We've focused a lot of attention on HBCUs. We've been very successful. Through the previous administration, we were able to bring the funding to the highest level ever in the history of the country, and then we made it permanent for the first time. So there's a lot to be excited about in what we were able to accomplish."
On his efforts to maintain bipartisanship … "When you find common ground, you're usually using common sense. And so, we've had a lot of success. My goal is to make friends … friends [as in] people who are willing to work together credibly on issues that matter to others.
"I'm stronger on my position that we live in the greatest country ever designed on earth and that this country has to be protected, and you do that by putting America before politics. And so, if I walked away from anything, it's the disfunction of Washington [that] is driven by ego and partisanship."
###