ICYMI: Sen. Scott on Access to Financial Services and Credit for Low-Income Americans
WASHINGTON – At this week's U.S. Senate Committee on Banking, Housing, and Urban Affairs hearing, Senator Tim Scott (R-S.C.) highlighted the role of mission-driven banks in providing financial services to low-income consumers and removing barriers to opportunity for creditworthy Americans.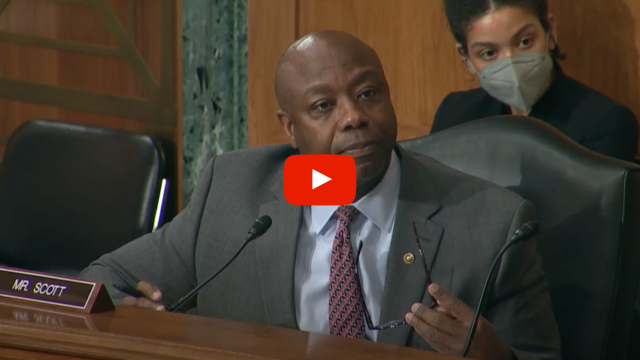 Click Video Above to Watch Sen. Scott's Questions
On the important work of mission-driven banks like Optus Bank in Columbia, SC: "I want to ask a couple of questions to Chairman McWilliams. The FDIC has a long history of working with banks, including mission-driven institutions, to develop policies that support broader access to the financial system. Late last year, your agency announced efforts to develop a revolutionary Mission-Driven Bank Fund to create a streamlined pathway for private sector and philanthropic investment in FDIC-insured MDIs and CDFIs. This novel approach has the potential to positively affect millions of folks … You have done a really good job of making sure that we stay in consistent communication about the important issues around MDIC, CDFIs, to make sure there's greater access for folks who are creditworthy to find a path forward. It's one of the things we can do better, and you have been a champion of doing it better, which is to find ways from a creditworthy perspective to pool resources to create access to small business."
On his support for expanding access to credit: "I would just like to finish with the fact that Mr. Hsu alluded to the fact that there's a way to find those who are credit invisible and bring them to light, and one of the things that I want to note is that often times those who are credit invisible may be creditworthy. So the question really isn't about whether or not they deserve access to the opportunity to be banked and have access to the loans. The question is can we, through the breadcrumbs in their portfolio, find rent payments and other things that will tell us that they will have a high success rate as it relates to helping those who are creditworthy become credit visible? In South Carolina, that is around 17-20% of the folks in my state who find themselves credit invisible. So, thank you for your suggestion."
Click here to read more about Senator Scott's Credit Access and Inclusion Act.
###