On 3rd Anniversary of Opportunity Zones, Scott Tour Highlights Wins in Erie, PA
WASHINGTON—Senator Tim Scott (R-SC) released the following statement ahead of the 3rd anniversary of the Tax Cuts and Jobs Act—which included the Opportunity Zones provision—and the release of his second Virtual Opportunity Zone Tour stop in Erie, Pennsylvania. The Virtual Opportunity Zone Tour is highlighting the good news seen in cities and towns across America as their citizens work together to create new jobs and breathe new life into their communities.
"The Erie Downtown Development Corporation (EDDC) is the textbook definition of citizens harnessing the limitless potential of Opportunity Zones and coming together to revitalize their neighborhoods," said Senator Tim Scott. "To put it into greater context, the City of Erie is home to the zip code with the lowest per-capita income in the country, but because of the vital work the EDDC is doing with Opportunity Zones, we've seen millions of dollars in private capital surge into the city. I cannot wait to come back one day—in person, and not virtually—to see the incredible strides Erie's made to uplift their community."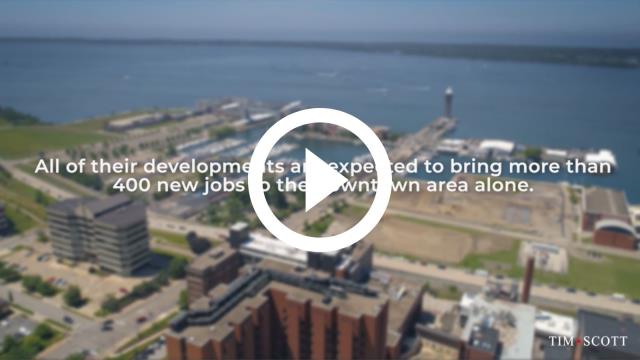 Click video above to watch.
Read more on Erie Times-News and Forbes.
Senator Scott's first stop on the tour was in Hampton County in his home state of South Carolina.
Created by a provision included by Senator Scott in the 2017 tax reform package, Opportunity Zones are the first major new effort to help our nation's most distressed communities in decades. More than $75 billion in private sector investment has been committed to Opportunity Zones around the country. For more information on Opportunity Zones, click here.
###