PHOTO RELEASE: Senator Scott Kicks off National Opportunity Tour in North Charleston
N. Charleston, SC – U.S. Senator Tim Scott (R-SC) toured the Chicora-Cherokee neighborhood of North Charleston, South Carolina as part of his National Opportunity Tour. Scott was joined by leaders of Metanoia, a Community Development Corporation. Below you will find pictures from today's tour.
Sen. Scott's Opportunity Tour will take him around the country, meeting with local and state leaders, to find innovative solutions to fight poverty and bring opportunity back to distressed communities. The lessons learned on the tour will help power the next iteration of his Opportunity Agenda, half of which has now been signed into law over the past few years.
The tour will also focus on highlighting the Investing in Opportunity Act, which was recently passed in tax reform legislation, and the ways it could positively impact economically distressed neighborhoods in South Carolina and states across the country.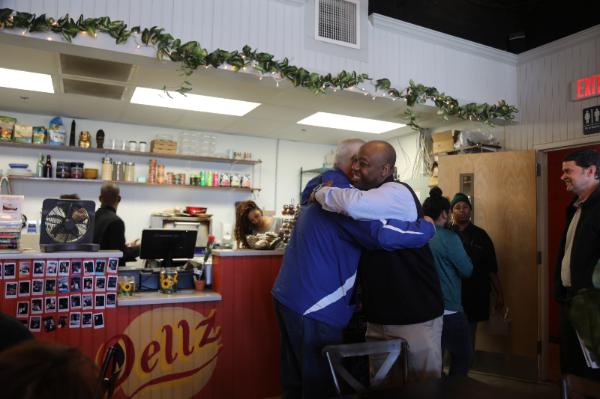 Senator Scott hugs constituent at Dell'z on the Macon, a cafe in North Charleston. 

Senator Scott meets with family at Dell'z on the Macon.

Senator Scott visits he workshop students use to make t-shirts and other items they sell on weekends through Metanoia.

Senator Scott tours new garden initiative in the Chicora-Cherokee neighborhood where he bought fresh lettuce and eggs.