REMARKS: Ranking Member Scott Opening Remarks at Hearing on Expanding Entrepreneurship and Investment Opportunities
WASHINGTON – This week, U.S. Senator Tim Scott (R-S.C.), Ranking Member of the Securities, Insurance, and Investment subcommittee of the U.S. Senate Committee on Banking, Housing, and Urban Affairs, led a hearing on increasing opportunity for and diversity among entrepreneurs and investors through capital markets.
Ranking Member Scott and members of the subcommittee asked witnesses about structural challenges that rural, women, low- and moderate-income, military veteran, and minority business founders, investors, and workers face in accessing capital formation, investment, and employment opportunities. The hearing also highlighted a legislative framework aimed at spurring capital formation for underserved communities and expanding opportunities for retail investors.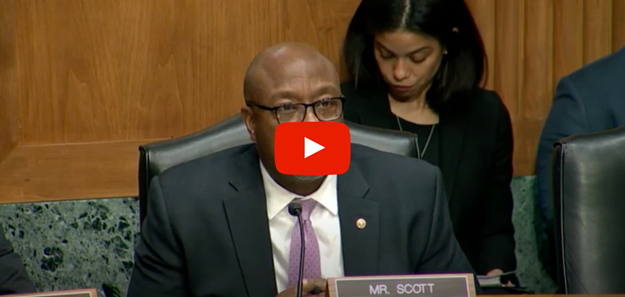 Click here to watch Ranking Member Scott's remarks
On providing pathways for Americans of all backgrounds to build their own version of the American Dream… "It does not matter whether you are Black or white, a man or woman, or living in rural South Carolina or downtown Chicago; these three tools – homeownership, entrepreneurship, and investing in markets – are the great equalizer."
On improved capital access for America's job creators… "I believe that there is more opportunity today in the United States than at any time in our history. Founders and entrepreneurs of diverse backgrounds… were once almost completely unable to access the same early stage and growth funding opportunities as their peers. Today, these groups are now receiving a growing share of investment capital to start and scale their businesses."
On improved market participation for Main Street investors… "In 1989, less than one-third of American families owned any stocks or bonds. Now, over half of U.S. families are accessing the U.S. capital markets – one of the most powerful and transformative drivers of economic growth, job creation, and wealth accumulation in the world."
###