SATURDAY: Sens. Scott and Ernst Headline SC's Women Veterans Event in Columbia
COLUMBIA, SC — The Offices of Senator Tim Scott (R-SC) and Joni Ernst (R-IA) wish to remind you of Senator Scott's South Carolina Women Veterans Event this Saturday at First Baptist Church of Columbia. The event is free and open to public, but please RSVP at www.scott.senate.gov/veteransrsvp.
"I am so excited to welcome everyone to Columbia this Saturday to honor our state's women veterans. From the Upstate to the Lowcountry, South Carolinians know that we are a grateful people who love, cherish, and respect our armed forces.
These women have took on the mantle of leadership and have fought to preserve all of our God-given freedoms. I look forward to having Iowa's own Senator Joni Ernst, a combat veteran herself, join me in honoring the Palmetto State's 43,000 women veterans. Hope to see y'all then!"
Senator Scott has hosted similar events for our veterans since being elected to federal office, including a World War II honor ceremony in 2012, Korean War events in 2013, a Vietnam War event in 2014, and a Desert Storm and Desert Shield events in 2016.
You can watch Sen. Scott speak about the event here, and hear his audio PSAs here and here. The video and audio PSAs may be used for public consumption. Interested press may RSVP to scott_press@scott.senate.gov.
WHO: Senator Tim Scott (R-SC), Senator Joni Ernst (R-IA)
WHAT: South Carolina Women Veterans Event
WHERE: First Baptist Church of Columbia
WHEN: November 10, 2018, 10 AM
RSVP HERE: www. scott.senate.gov/veteransrsvp.
PRESS: Media Availability at 9:30 AM prior to the event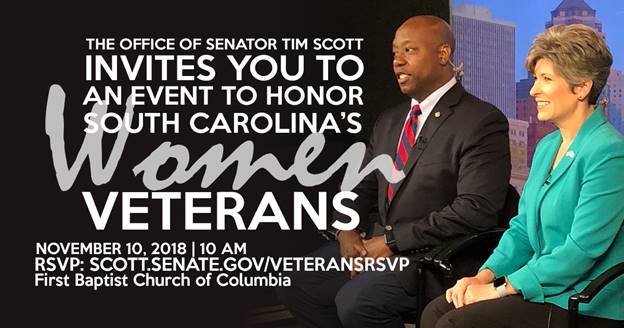 ###