Scott, Sec. Condoleezza Rice, School Choice Caucus Members Discuss Protection of Parental Involvement in Education
WASHINGTON – Today, School Choice Caucus Co-Chairs Senator Tim Scott (R-S.C.) and Congressman John Moolenaar (R-Mich.), alongside other members of the caucus, met with former Secretary Condoleezza Rice to discuss important issues facing students and parents in our nation's schools — including the need to protect parents' rights to be fully and actively involved in their children's education.
Following a productive conversation, members of the caucus announced their intent to develop a unified vision for the future of education and work to ensure parents' voices are supported.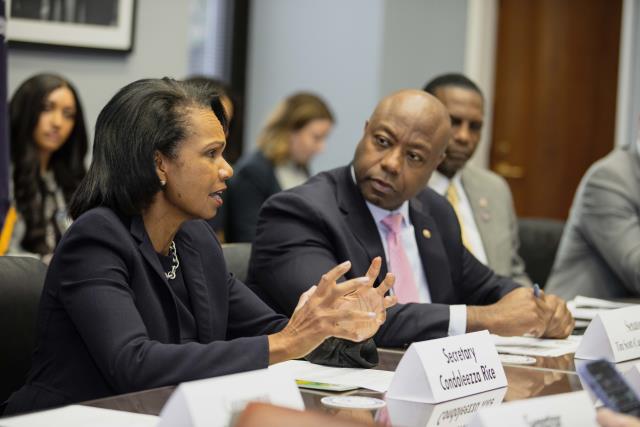 Sec. Rice speaks with Sen. Scott and caucus members
"Throughout the pandemic, school closures highlighted the detrimental impact of reducing parents' educational options. Yet — inexplicably — efforts to lock parents out of the conversation have only accelerated," said Senator Scott. "I've often said a good education is the closest thing to magic in this country, providing a lifeline for kids who feel stuck in poverty, as I did. I look forward to working with my colleagues to extend that lifeline to all young Americans by putting their education back in the hands of those who know best: their parents."
"This year, parents have voted for school choice candidates at the polls, and they have voted with their feet, leaving behind school districts that refuse to provide the environment and curriculum that is best for their children," said Congressman John Moolenaar. "I am thankful to Secretary Rice for her efforts on this issue and for meeting with the School Choice Caucus today. I look forward to working with Senator Scott and our colleagues in Congress to do everything we can to eliminate red tape and empower parents and students so they can pursue the educational opportunities that are best for them."
Background:
With education at the top of mind for parents and families across the nation, Senator Scott has led several efforts to give them greater autonomy over their children's education. Recently, Scott: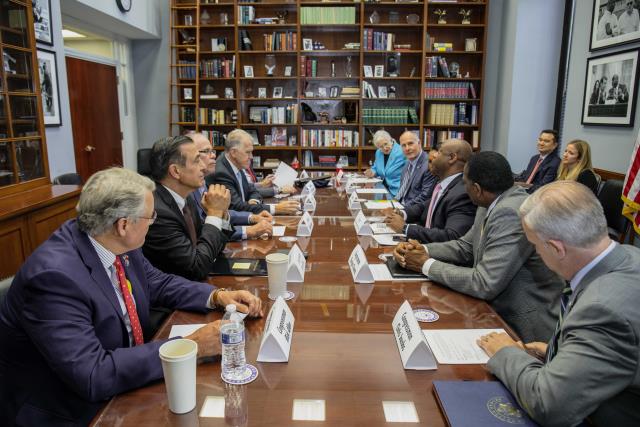 School Choice Caucus members gather for a meeting with Sec. Rice
###