Scott Slams Democrats' Soft-on-Crime Policies
WASHINGTON – Today, U.S. Senator Tim Scott (R-S.C.) joined America Reports on Fox News to discuss the nationwide crime wave spurred by Democrats' soft-on-crime policies.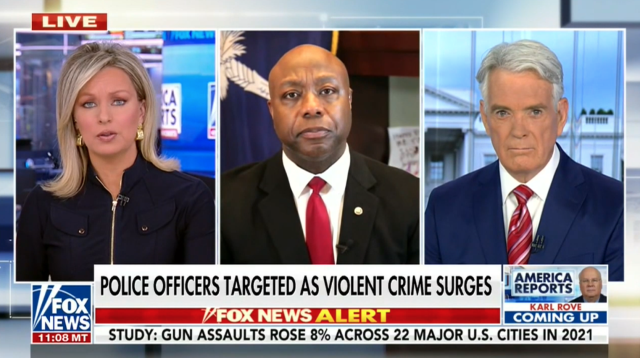 On police officers being targeted as crime surges … "It's just hard to imagine that people who do their jobs as a mission are being slain in our streets. It's devastating to watch, and frankly, the lack of enforcement of existing laws only makes the situation worse for our officers and the communities that they serve in. …
"The president should use his bully pulpit to tell DAs and prosecutors to enforce the laws in our country. That's why they're there. They keep our officers safe. It allows them to do their jobs. And my goodness, I don't want to see another funeral. I don't want to hear another widow too early. It's devastating."
On the White House failing to take crime seriously .. "It's obvious that the White House lives in an alternate universe. … Listen, they have been soft on crime, they have been bad on crime, and they have been terrible for the communities that they say they have in their focus. Crime in vulnerable communities is really bad for those folks who can't go anywhere else and for the officers coming into those communities. We're seeing … a 67 percent increase in crimes against our officers, a nearly 50 percent increase in homicides around our country.
"What we need is a tough stance against criminals who are violent. We need a tougher stance from the White House, giving the officers the resources. Listen, this is the truth. The people who blocked police reform that would have provided more money for equipment [and] more money for training [are] the progressives."
###