Wednesday | January 13, 2021
Scott Virtual OZ Tour Heads West with Stop in South Los Angeles
NORTH CHARLESTON– U.S. Senator Tim Scott (R-S.C.) released the following statement on the third stop on his nationwide Virtual Opportunity Zones Tour featuring the SoLa Impact Beehive in South Los Angeles, California. The Virtual Opportunity Zones Tour is highlighting the good news seen in cities and towns across America as their citizens work together to create new jobs and breathe new life into their communities.

"SoLa Impact is a great example of Americans harnessing the spirit of Opportunity Zones," said Senator Tim Scott. "Their work to create high-quality, affordable housing while bringing jobs to often overlooked communities will make a lasting impact on the landscape and lives of the people in South Los Angeles. This plan has the power to reinvigorate the heart of this neighborhood by attracting local, minority- and women-owned businesses to invest in their own community. I hope to visit in person soon to see firsthand the growth this project brings."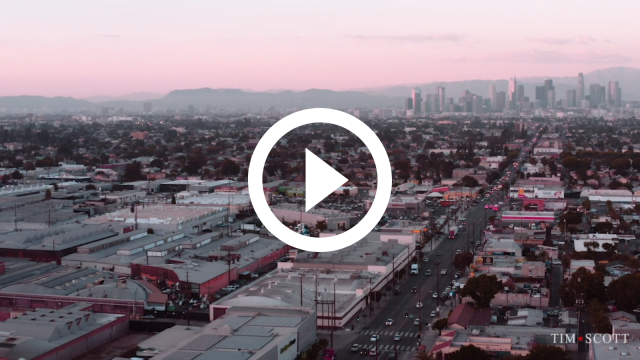 Click photo above to watch
Background:
The Beehive is SoLa's OZ business campus, comprised of 92,000 square feet of commercial space located only ten minutes south of downtown Los Angeles.

Comprised of six unique and architecturally beautiful red-brick warehouses, this project will transform the local neighborhood and economy in the true spirit of the OZ legislation as the "nation's first OZ business campus.

Project organizers expect The Beehive to generate 900 jobs.
In case you missed it, for the first two stops on the Virtual OZ Tour Senator Scott highlighted success stories in Hampton County, South Carolina, and Erie, Pennsylvania.

Created by a provision included by Senator Scott in the 2017 tax reform package, Opportunity Zones are the first major new effort to help our nation's most distressed communities in decades. More than $75 billion in private sector investment has been committed to Opportunity Zones around the country. For more information on Opportunity Zones, click here.
---
---
Next Article
Previous Article