Senator Scott Questions Fed Nominee on Lending Options for Low-Income Americans
WASHINGTON – Today, U.S. Senator Tim Scott (R-S.C.) questioned Federal Reserve nominee Sarah Bloom Raskin about her history of advocating for policies that make it harder for low-income Americans to get small dollar loans.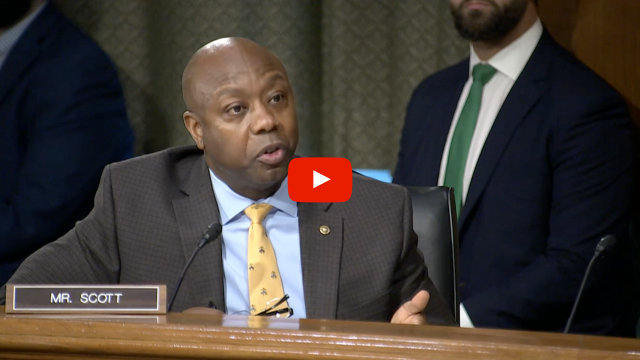 Click to Watch Sen. Scott's Questions
Read a transcript of his exchange below:
SENATOR SCOTT: Thank you Mr. Chairman. I'd like to associate myself with Senator Toomey's comments about the harmful views of Mrs. Raskin. I think that Senator Toomey asked a very honest, simple question: Do you mean what you say today or did you mean what you've been saying for years? … Because it is indeed dangerous to use one's power as a regulator to pick winners and losers—and you've advocated for that. To discriminate against industries that you find distasteful would be a harmful precedent for the Fed. Mrs. Raskin's public comments of politicizing the Fed and using this extraordinary power in ways that would harm millions of Americans is more than just a little concerning.
A worker's hard-earned dollars doesn't go as far in today's economy as it used to. This inflation fueled economy is eroding the spending power of everyday Americans working paycheck-to-paycheck. The Democrats tax-and-spend approach to fiscal policy has driven up prices to a 40-year high since taking office, just a little over a year ago. Folks at home in South Carolina keep telling me that they have too much month left at the end of the money. Why is that? Well gas is almost 50% higher, utilities nearly 25% higher, used cars nearly 40% higher. Food, clothes, and shoes, higher, higher, higher. Now I'm concerned that this administration and their chosen regulatory nominees want to make life even more difficult for those hardworking Americans working paycheck-to-paycheck to bridge these inflation-driven income shortfalls. In 2020, the Federal Reserve board published a study on the cost of making a small dollar loan.
Mrs. Bloom Raskin, are you familiar with that economic research from the Fed?
SARAH BLOOM RASKIN: No, I'm not, but I'd like to learn more.
SENATOR SCOTT: Well, one of the findings of that research was that — and I found it to be particularly alarming — was that the report found that APR rate caps, even at 36%, would effectively eliminate lenders' ability to extend consumer loans under $3,000. I'm not sure if you realize the powerful impact of eliminating loans at $3,000 because that means that those Americans living in marginalized communities, like the one I grew up in, would have to turn to pawn shops, or to a market that doesn't exist – a market that's not regulated, that's not safe, and certainly a market that would not be reliable.
That same year, you broadly characterized a spectrum of existing small dollar consumer credit options as a serious threat to low-income communities before endorsing legislation to establish a 36% interest rate cap on all consumer loans. You further justified your support for a federal cap by stating "opposition to such a cap is based either on a misunderstanding of the needs of low-income communities or an out and out support of predatory lending."
Mrs. Raskin I am opposed to a national APR rate gap, even at 36%, because it simply eliminates an entire market of small dollar loans for people who need access … But your characterization that either you are someone who doesn't understand low-income Americans, or you are someone who supports the predatory industry…I got to say, I'm not sure which one you would call me: Am I the person who simply doesn't understand the needs and challenges of low-income Americans, or do you put me in the category of someone who's just a cheerleader for predatory lenders?
SARAH BLOOM RASKIN: Ok, thank you for that question. And you are exactly right small dollar loans, I think, are a very important source of credit to really all Americans, but particularly those who need access to credit in a timely way … But you are exactly right and put your finger on an important challenge, which of course is the availability of safe credit for people when they need it. I think there is more that can be done in terms of having — of providing access to safe, affordable small dollar loans. I'm aware that there is work underway to be looking at this, and I think from that perspective it's an important issue that you've put your finger on.
SENATOR SCOTT: Thank you ma'am, I'm out of time. Let me just simply say this, thank you for your response, and I will say we led the efforts to have an interagency framework developed around small dollar lending and the Fed participated in that process. I do look forward to your response after seeing the report. Thank you, Mr. Chairman.
###