Senator Scott Speaks Out Against Hate Crimes at Senate Judiciary Hearing
WASHINGTON – Today, U.S. Senator Tim Scott (R-S.C.) praised Congress's passage of anti-lynching legislation and denounced recent threats of violence against minority Americans at a Senate Judiciary Committee hearing titled "Combating the Rise in Hate Crimes."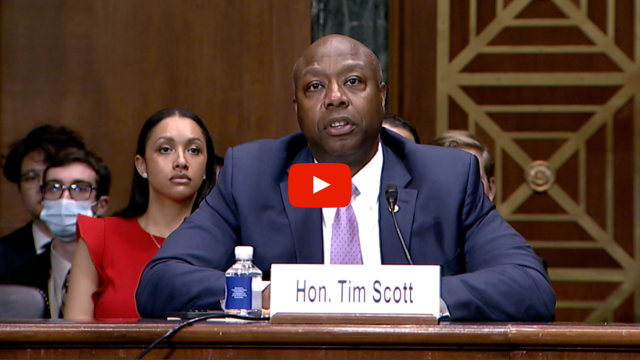 Sen. Scott was invited to provide remarks at the hearing due to his leadership on this issue. Recently, he:
Remarks On Anti-Lynching Legislation:
"With a backdrop of increasing hate crimes around this country, it is important to note that … after 200 times [of trying and failing], this Congress, in a bipartisan fashion — frankly in a nonpartisan fashion — is putting Americans beyond politics. … It is good to see that [anti-lynching legislation] is on the way to the president's desk, and it sends a positive, powerful signal to those who have been the victim of lynching … and to their families as well."
Remarks On Threats to HBCUs:
"Over the past few months, my heart has been heavy. Mr. Chairman, it's been broken by the number of calls on HBCU campuses — bomb threats, stopping in their tracks the students on campuses, alarming the law enforcement agencies in their areas, causing confusion and once again a loss of learning on those campuses. …
"It shouldn't be this way. Schools should not be a place of fear; they should be a place where dreams come true. Our nation has fought and fought and fought — and continues to fight — against dark elements within our society, and we will continue to do so.
"Last week, I was pleased to see the Senate unanimously passed my bipartisan resolution condemning these evil threats of violence against HBCUs. We need the DOJ and the FBI to continue to provide oversight and to provide investigations."
Remarks On Anti-Semitism Legislation:
"It's also sad to see that more than half of the hate crimes against people of religious background happen to our Jewish members of this society.
"We can do better. We should do better, and it's one of the reasons why I supported and sponsored legislation around anti-Semitism on college campuses as well. I believe it is our responsibility as an American family to address the issues that challenge us because a threat to one is indeed a threat to all."
###