Senators Ernst and Scott to Headline South Carolina Women Veterans Event in Columbia
WASHINGTON—Today, Senators Tim Scott (R-SC) and Joni Ernst (R-IA) released the following joint statement ahead of Senator Scott's South Carolina Women Veterans Event on Veterans Day weekend—November 10th, 2018:
"Senator Ernst is a force to be reckoned with. Not only does she hold the title of United States Senator, but she also holds the rank of Lieutenant Colonel in the Iowa Army National Guard. A dear friend of mine in the Senate, a combat veteran herself, and a powerful voice for women, I am so excited to welcome her back to the Palmetto State. I have no doubt that her passion, story, and mission will resonate with South Carolina's 43,000 women veterans," said Senator Scott.
"I am so excited to join my good friend Senator Tim Scott in honoring the brave women who have selflessly served our nation. As a combat veteran myself, I look forward to exchanging stories about our time in uniform and remembering those who did not make it home and paid the ultimate sacrifice for our great country," said Senator Ernst.
Senator Scott has hosted similar events for our veterans since being elected to federal office, including a World War II honor ceremony in 2012, Korean War events in 2013, a Vietnam War event in 2014, and a Desert Storm and Desert Shield events in 2016.
WHO: Senator Tim Scott (R-SC), Senator Joni Ernst (R-IA)
WHAT: South Carolina Women Veterans Event
WHERE: First Baptist Church of Columbia
WHEN: November 10, 2018, 10 AM
RSVP HERE: www. scott.senate.gov/veteransrsvp.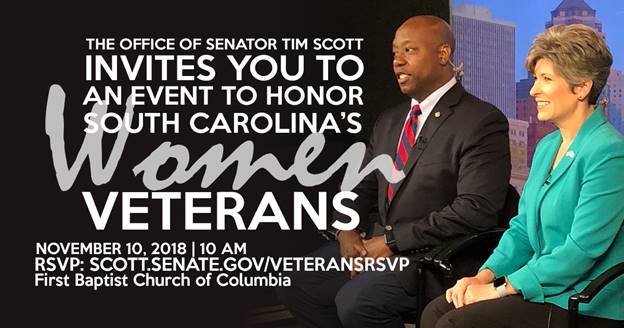 ###