ICYMI: Scott Presses Blinken on the Fentanyl Crisis and other National Security Concerns
WASHINGTON – U.S. Senator Tim Scott (R-S.C.) pressed U.S. Secretary of State Antony Blinken in a Senate Foreign Relations Committee hearing on the Biden administration's response to a variety of complex challenges around the world. The senator's line of questioning touched a wide range of issues, from the fentanyl crisis to the threat of a nuclear Iran and China's expanding influence across sub-Saharan Africa.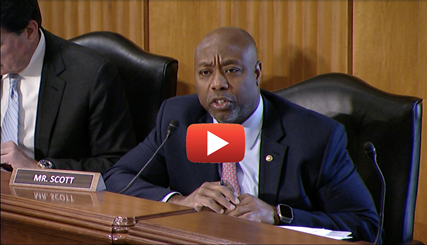 Watch the questions in full here.
Senator Scott's full questions as delivered:
Thank you, Mr. Chairman.
Thank you for being here today. Certainly, a long day for you, listening to all the questions that you're receiving today. I know that Dr. Barrasso spent some time talking about fentanyl and on the crisis that we have as a nation. Last month at this hearing, I had an opportunity to talk about a friend of mine, a former business school dean at the College of Charleston, whose son, Alan Shao, his namesake, lost his life to fentanyl all on the first use.
And it is hard to think about this crisis simply by thinking about the numbers. Over 70,000 other American families have had a similar experience. These are fathers, brothers, sisters, daughters, all lost because of fentanyl. And I know that you spoke sometime with Dr. Barrasso about the importance of Mexico and precursors from China and the approach that we should take with the Mexican cartels.
I'd like for you to illuminate some of the work that we're doing, because as I look through the budget… I see a lot in the form of technical assistance, but I don't see a lasting commitment to confronting this challenge. And Secretary, I know that you know that just a few weeks ago, a few South Carolinians were kidnapped and some died at the hands of the Mexican cartels.
So, we take this issue seriously as a nation. But at home, this is a sensitive and serious issue. I'd like to know what we're doing from all of the government approach, not simply your department, but seeing it from a panoramic view, number one. Number two, what else can be done with Mexico? Number three, I know that there are times when fentanyl [is] literally shipped from China straight to America. What can we do to cut that off?
[…]
[I]s there high utilization of the technology that we have [at the border]?
[…]
Thank you. According to the recent report from the IAEA, Iran is getting dangerously close to having weapons grade [uranium]. Last month, the agency reported the discovery of uranium particles enriched up to 84%, 6% below the threshold necessary to create a nuclear weapon. Given the regime's brutal crackdown against peaceful protesters and their own efforts to sabotage the negotiations, to most people in the room, it seems clear that negotiating a new JCPOA should be completely off the table.
From my perspective, I hope that's yours as well. What practical steps are you taking to work with our allies and partners to actually address this threat, especially given the fact that certain sanction requirements are about to lapse?
[…]
U.S. embassies in Africa. Yeah, there's a shortage of staff. What are you doing about it? And frankly, you think about the CCP and its issues and its growth through its Belt and Road projects. It seems like we need to have more focus on Africa than we have. I know that you've… had some work with the African Leaders Summit.
Love to hear your thoughts on A, the shortage, and B, strategy.
[…]
Chairman.
Thank you.