ICYMI: Sen. Scott Slams China for Continued Aggression Towards US, Demands Biden Take Additional Action on Fox News' The Story with Martha MacCallum
WASHINGTON – Yesterday, U.S. Senator Tim Scott (R-S.C.) joined Fox News' Martha MacCallum to discuss how we can protect Americans from the national security threat posed by the Chinese Communist Party, empower our students, end the fentanyl epidemic by closing our porous border, and stabilize Biden's flailing economy through fiscal responsibility.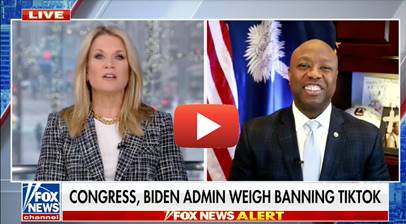 Click here to watch the full interview.
On China as a serious threat… "If you were to create a blueprint to ruin America, one of the things you would include in your blueprint is taking China for granted. Not only did they breach our borders with their balloons, not only have they stolen our intellectual property, not only have they seen communist police stations set up throughout New York and other parts of the country. Not only have we seen the Made in China plan that takes our intellectual property, creates the battery future—the EVs of the future—and they've also sown seeds in Africa and around the world [though]Belt and Road projects that allows governments to go so far in debt they can't find their way up…Then you watch President Xi and President Putin get together for a few days to talk about their strategy for the world. I think anyone who doesn't see China as an adversary is asleep at the wheel, at best."
On America's ability to lead the world… " The truth be told, we still have more opportunities to push back on China. As we take our approach to how you live your lives, and allow it to spread throughout the world, not by forcing it on countries, but by being a model to follow. We should be the city on the hill – where everybody wants to be like America. China doesn't just want to be like America, they want to beat America."