ICYMI: Sen. Scott Highlights Solutions to the Open Border Chaos, Slams President Biden's Failed Economy on Fox News' Fox & Friends
WASHINGTON – Today U.S. Senator Tim Scott (R-S.C.) joined Fox News' Fox & Friends to express concern over the Biden administration's reckless inflationary spending and dangerous open border policy, while highlighting his legislation – including the Alan T. Shao II Fentanyl Public Health Emergency and Overdose Prevention Act, which will protect Americans from the increasing chaos and devastation coming in the wake of Title 42's expiration.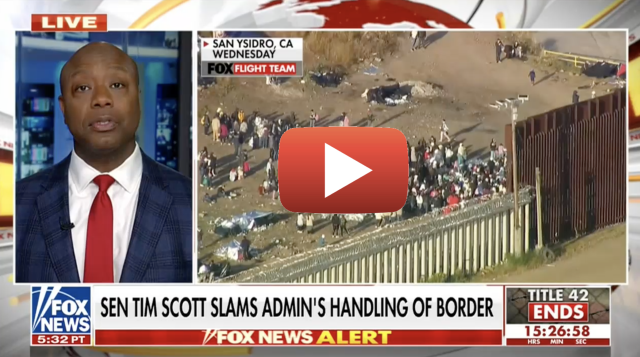 Click here to watch the full interview.
On President Biden's incoherent and devastating border policy… "70,000 Americans have lost their lives to fentanyl – , much of that preventable if we closed our southern border, extended [the powers of] Title 42, and had a President who would do his job. He's left our border insecure, unsafe, and wide open. We deserve better as Americans… In South Carolina, [at] the College of Charleston… the former Business School dean lost his son this year because of fentanyl. This is impacting lives across our nation. Every county in the nation is a border county."
On his solutions to securing the border… "We have a President who is abdicating his responsibility. If he does his job, we close our border. I have legislation that extends the healthcare crisis on our border. I have legislation that provides 10 billion for a border wall. I have legislation that provides 5 billion dollars for technology so we can surveil our entire border to stop fentanyl."
On the Biden administration's rampant spending … "This president has led to a 1.2 trillion-dollar deficit last year, 2 trillion this year, and 24 consecutive months of inflation outpacing wage growth because Americans are losing their spending power…He wants to find someone to blame. President Biden, look in the mirror and blame yourself. The truth is, that the President is failing us on the economy."