ICYMI: Senator Scott Hosts 5th Annual HBCU Fly-In
WASHINGTON—Yesterday, U.S. Senator Tim Scott (R-S.C.) hosted the Fifth Annual HBCU Fly-In to celebrate America's more than 100 Historically Black Colleges and Universities. Senator Scott invited HBCU presidents and chancellors to attend the conference, which took place virtually this year due to the pandemic and featured several speakers: three-time Super Bowl champion and entrepreneur, Emmitt Smith, Senators Chris Coons (D-Del.), Thom Tillis (R-N.C.), Cindy Hyde-Smith (R-Miss.), and Marsha Blackburn (R-Tenn.), Representative Alma Adams (D-N.C.), Lieutenant Colonel Antonio Pittman, and Sean Perryman, the Director of Social Impact Policy and Counsel of the Internet Association. Throughout the day, they discussed the importance of diversity in the workplace and the role HBCUs play in producing African American professionals in all careers.
Senator Scott is the Senate Co-Chair of the bipartisan HBCU Caucus, along with Senator Chris Coons.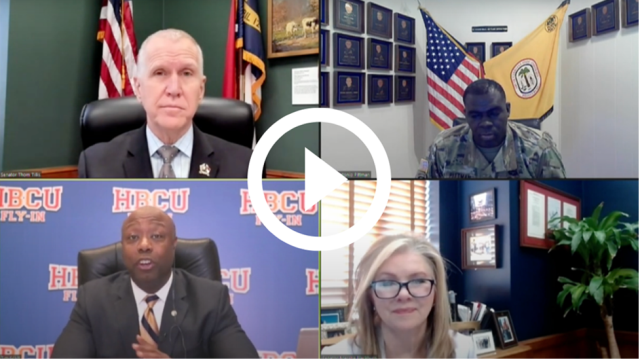 The event kicked off with remarks from Senator Scott, a highlight reel of previous fly-ins, and remarks from Emmitt Smith.
Panel 1 – "The Black Digital Footprint: Diversity in Tech" featured Representative Alma Adams and Sean Perryman of the Internet Association. Discussion topics included ensuring everyone has access to broadband, how to produce more HBCU students in the tech field, and more. CLICK HERE to view the first panel.
Panel 2 – "Shark Tank: Promoting Inventiveness and Access to Venture Capital" featured Senators Chris Coons and Cindy Hyde-Smith. Discussion topics included access to credit, what the Small Business Administration is doing to help, how to encourage startup businesses, and more. CLICK HERE to view the second panel.
Panel 3 – "African American Leadership in Armed Services" featured Senators Thom Tillis and Marsha Blackburn, and Lieutenant Colonel Antonio Pittman. Discussion topics included barriers to diversity in the military and how HBCUs are preparing students for experience in the armed services. CLICK HERE to view the third panel.
What They Are Saying:
WSPA
South Carolina Republican Senator Tim Scott is striving to improve relationships, funding and opportunities for students who attend Historically Black Colleges and Universities… The state of South Carolina is home to eight out of 107 total HBCUs, all of which would benefit from additional funding and improved relationships with federal agencies.
UNCF
#ICYMI: @SenatorTimScott hosted the fifth annual #HBCUFlyIn! This year's virtual event highlighted the importance of diversity and addressing the role that #HBCUs play in producing African American professionals in all careers.
Rick Gallot, Grambling University President
Thank you @EmmittSmith22 for taking time to address #HBCU Presidents and Chancellors during the virtual #HBCUFlyIn. Appreciate the @theswac shoutout!
Thurgood Marshall College Fund
Our President/CEO Dr. Williams and the TMCF government relations team, proudly welcome the School Chancellors, Presidents and Administrators to the 5th annual HBCU Fly-In!
College to Congress
Join @SenatorTimScott as he hosts his 5th Annual #HBCUFlyIn! C2C is proud to have Senator Scott as our Honorary Co-Chair who has hosted many of our alumni in his office.
###