Scott, Colleagues Hold Roundtable on Dems' Harmful Child Care Proposals
WASHINGTON – Today, U.S. Senator Tim Scott (R-S.C.), along with Senators Richard Burr (R-N.C.) and Susan Collins (R-Maine), held a roundtable with child care providers from around the country to hear their concerns about the negative impact the Democrats' reckless spending bill would have on child care workers and families.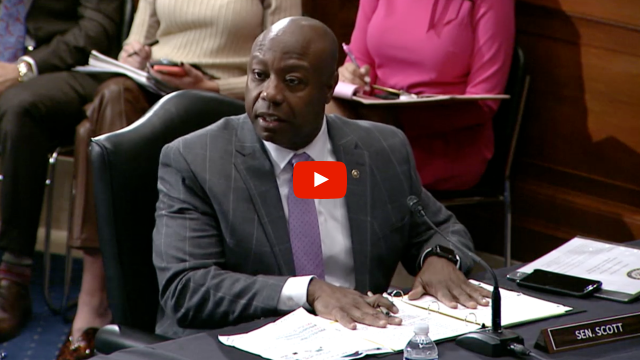 Click to watch Sen. Scott's remarks
Senator Scott's remarks, as delivered:
Thank you, Senator Burr, for holding this really important roundtable discussion. Let me just say to each and every witness, thank you all for being here and providing your expertise as it relates to what we're facing in the "Build Back Better" plan.
In so many cases, for the parents of the 12 million kids [under age] five, it's really a "Build Back Broker" plan, honestly.
If you literally think about what [the Democrats'] own folks are saying about their plan, it's devastating to families. I think about the liberal People's Policy Project that calculates that this plan would increase the cost of having a single child—one child—in daycare from $15,800 to over $28,000.
There's no way that this government will provide families with enough subsidies to make up for the cost that the Build Back Broker plan is actually going to increase. I can't think of anything less logical, anything less commonsense, than this plan as it relates to child care.
I'd also say that, for more than 30 years, there's been a bipartisan coalition here in Washington that has included faith-based child care as a part of the remedies available for families. Fifty-three percent of families use the faith-based option. This new plan eliminates that option for more than half of Americans who want to dictate and determine where their child goes to child care.
I don't understand what [the Democrats] don't understand about this proposal and its increased cost, its reduction in options, and its negative impact on families all across America.
And every time I talk with a child care provider, their suggestions to making child care more affordable seem commonsense, as if they're in the business of doing it every single day! Why [would we] not take a step back and listen to folks like you all, who are experts on the ground on helping us deal with what is, in fact, an ever-increasing problem for Americans across this nation?
How do I find the right place for my child? Why isn't that the focus? Why are we focusing on changing the facility, changing the employees, changing the profits, changing the approach, and making it all more expensive and out of reach for the average American family?
I can't imagine having two kids in child care. If one is $28,000 almost $30,000, [then] two kids? The median income in this country—median, Senator Burr—is under $40,000. How [do] you go to work and take care of your family with the Build Back Broker plan? It just won't work.
I think we ought not politicize this issue, because to me this is not an issue of Left versus Right. This is an issue of American families looking for ways to make decisions in their households, and [this plan would] take away options by making it unaffordable.
###