Scott Slams Democrats' Disingenuous Election Reform Push on Senate Floor
WASHINGTON – Today, U.S. Senator Tim Scott (R-S.C.) took to the Senate floor to call out the Democrats' disingenuous push for election reform and bring truths about the Jim Crow era and the Georgia election law to light.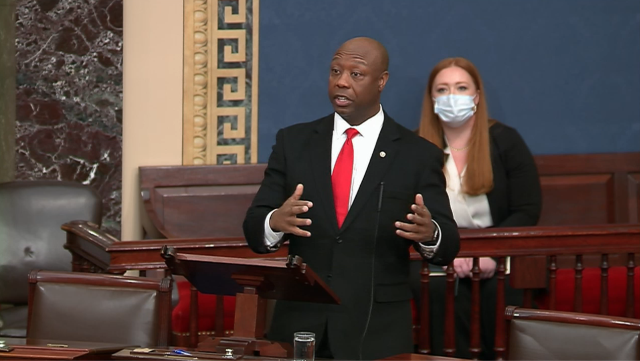 Excerpts of Sen. Scott's speech:
On Jim Crow …
Thank you, Madam President, for the opportunity to talk about something really important to all Americans, but specifically important to Americans from the deep south, who happen to look like me.
As I listened to the president talk about the importance of stopping what he characterized as "Jim Crow 2.0," I felt frustration and irritation rising in my soul.
As I keep hearing the references to Jim Crow, I asked myself: how many Americans understand what Jim Crow was?
I am so thankful, thankful that we are not living in those days. But just for those who don't appreciate [what] Jim Crow was, it was a time … my grandfather — born in 1921 — would have experienced. If he was still alive, he could tell the stories of the Jim Crow south and the Jim Crow era — an era where in order for a Black person to vote, you had to pass a literacy test. …
On racial progress …
[It's] hard to deny progress when two of the three [Black senators] come from the southern states that people say are the places where African American votes are being suppressed. Not to mention that 2020 was a banner year for minority participation in the greatest nation on earth from a voting perspective. And that is, my friends, good news.
On the Democrats' proposal …
The Democrats' proposal would allow for the supporters of Bernie Sanders — their tax dollars — to go into my reelection account. I oppose that. It would undermine voter ID laws across our country. I oppose that. It puts unaccountable bureaucrats in charge of our elections. Americans oppose that. And walking in on the day of the election, registering to vote without any verification, is something I, too, oppose.
On the Democrats' false narrative …
So, Madam President, when I think about the important issue of voting, and when I think about the issue of voter suppression, it lands on my front porch, because as a guy who has voted in the deep south all my life — as a person who was born in 1965 with a momma who understands racism, discrimination … [and] a grandfather who I took to vote and helped him cast his vote because he was unable to read — to have a conversation and a narrative that is blatantly false is offensive, not just to me or southern Americans, but offensive to millions of Americans who fought, bled, and died for the right to vote.
So if we're going to have an honest conversation about the right to vote, let's engage in that based on the facts of the laws that are being passed, not the rhetoric surrounding those laws, where it looks like power is more important than people.
###