Senator Scott Joins Morrison Yard Opportunity Zone in "Community Compact"
Charleston, S.C. – Today, U.S. Senator Tim Scott joined business and community leaders at Morrison Yard, a $300 million residential, office, and mixed-use project located in a Qualified Opportunity Zone in Charleston, South Carolina. The "Morrison Yard Community Compact" outlines a series of economic and community benefit initiatives developed by project and community leaders. The project is projected to generate a cumulative economic impact in excess of $1.4 billion by 2030 with an estimated 84% of this impact captured within the City of Charleston.
The Morrison Yard property is also part of a larger master-planned mixed-use development of the same name. At completion of the master plan, Morrison Yard will offer over 138,000 SF of Class A office space in a 10-story building, 576 apartment homes, over 37,000 SF of street-level retail and a 150-room Kimpton Hotel. The newly completed phase I apartments, Morrison Yard Residences, were delivered by Woodfield Development with a co-Investment by RevOZ Capital.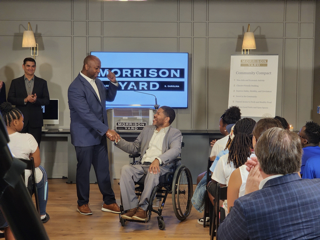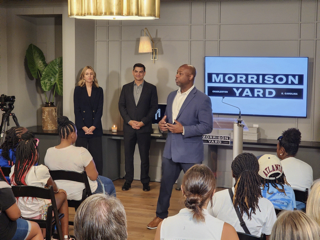 "The Morrison Yard project is a fantastic example of the power of Opportunity Zones," said Senator Scott. "It's wonderful to see targeted investments and community collaboration result in economic transformation. This project is poised to create a safer and more prosperous community for generations to come."
"Morrison Yards is committed to serving as a positive force for the Eastside community and greater Charleston," said Mike Schwarz, Partner at Woodfield Development. "Our Community Compact reflects a multi-faceted approach to generating new economic, environmental, and community benefits in close collaboration and partnership with local residents and organizations. For the Eastside, we have recently dedicated a number of our courtyards at Morrison Yard for public use, completed a Quiet Zone at the rail crossing, and we are getting ready to start on 2 exciting projects – installing much needed sidewalks on the west side of Morrison Drive and building a connection to the bridge behind our community for safer pedestrian and bike access to that great community amenity."
"We could not be prouder to see the full vision of Morrison Yard coming to life," said Alex Bhathal, Co-Founder and Managing Partner, RevOZ Capital. "Our passion for opportunity zone investing has and always will be about making a positive difference in places that are too often overlooked and underestimated. While we have much more to do, it's gratifying to see Morrison Yard emerging as a model of what the Opportunity Zone program can achieve."
Also joining the event were 20 students in the Kids On Point's Summer Program which works year-round to expose kids to a variety of academic and enrichment opportunities, mentorship, life skills development, athletics with an emphasis on health and wellness, and college and career counseling.Ushering in a revitalized commitment to the community and surrounding North Morrison Drive, Morrison Yard and Kids On Point are joining together in a commitment to providing access and opportunities for students and families on the peninsula of Charleston and beyond.
The "Community Compact," outlines seven key areas where the project seeks to deliver sustained economic and community impact:
New Jobs and Economic Activity
Climate-Friendly Community
Improve Safety, Mobility, and Circulation
Invest in the Community
Better Access to Fresh and Healthy Food
Enhance Local Parks and Open Spaces
SUMMARY OF OPPORTUNITY ZONES
The Opportunity Zone program is a result of bipartisan legislation enacted in 2017 under the leadership of Senator Scott and co-sponsor Senator Cory Booker (D-N.J.).
The program provides tax benefits for individuals who make long-term investments into Qualified Opportunity Zone (QOZ) communities. As aQOZ, Morrison Yard joins over 8,700 census tracts identified by state and federal leaders as high priority areas to attract new long-term private investment to stimulate economic and community development.
OZ investment reached approximately 3,800 communities from mid-2018 through 2020, representing nearly half (48 percent) of the total number of designated OZ communities nationwide.
OZ's invest in economically distressed communities ranked from lowest to highest levels of need, they average in the 87th percentile for poverty, 81st for median household income, and 80th for unemployment.
Total OZ equity investment was at least $48 billion by the end of 2020.
OZ designation caused a "large and immediate" increase in new commercial and residential development activity such that the likelihood of investment in a given month jumped by over 20 percent in designated tracts across 47 studied cities.
In addition to boosting the supply of housing, OZ designations improved local home values by 3.4 percent from 2017 to 2020 with no observed increase in rents.
BACKGROUND
Senator Scott's leadership to champion Opportunity Zones includes: