ICYMI: Senator Scott Stops in Hartsville to Discuss Economic Development
Yesterday, Senator Tim Scott delivered remarks and answered questions at the Hartsville Chamber of Commerce on the development and expansion of Opportunity Zones in South Carolina, ongoing infrastructure negotiations, and more.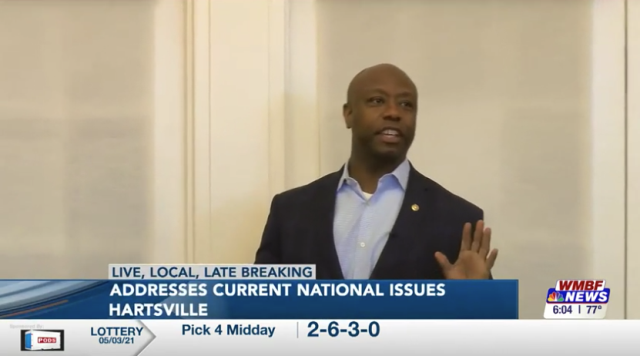 Click to watch WBMF's coverage
WMBF: Sen. Tim Scott addresses Opportunity Zones, divide between parties during Hartsville visit
May 3, 2021
By Cameron Crowe
South Carolina U.S. Sen. Tim Scott made a stop in Hartsville where he addressed a wide range of national issues, along with how to help rural areas.
He met with Greater Hartsville Chamber of Commerce members about the expansion of Opportunity Zones.
Opportunity Zones are a federal program created by Congress in the Tax Cuts and Jobs Act of 2017 to encourage economic development in low-income and rural areas.
Hartsville's Canal District serves as an Opportunity Zone and is in the process of being revitalized.
Chamber members also asked Scott about China relations, education, voting laws and COVID-19 relief.
Scott also addressed the divide between parties and how it's impacted decision-making in Congress.
"If we were going to accomplish what is best for America, we would start with a discussion about infrastructure being defined as, roads, bridges, waterway, ports, maybe airports, broadband, especially in rural and minority communities," Scott said.
Scott also discussed the future of nuclear energy. Hartsville is home to the Robinson Nuclear Plant.
"The future of it long term is very very good because it's consistent, stable, safe, and clean," Scott said.
###