Scott Announces Child Care Bill at HELP Committee Hearing
WASHINGTON – At today's Senate Health, Education, Labor, and Pensions (HELP) Committee hearing, U.S. Senator Tim Scott (R-S.C.) spoke on families' need for affordable and flexible child care — announcing a new bill to counter the overbearing child care proposals Democrats pushed in their reckless tax and spending bill.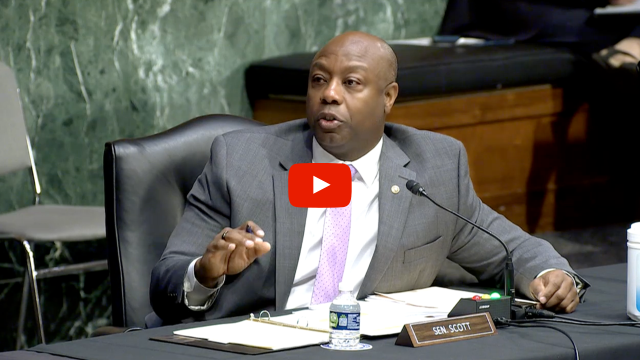 Sen. Scott delivered the following remarks:
Thank you Chair Murray for the opportunity to address the witnesses on such an important topic around child care and preschool.
Looking for ways to really improve the outcome for the kids who are growing up in sometimes challenging circumstances, I think about good intentions. I think both sides probably have good intentions as it relates to the conversation and sometimes the debate around providing high-quality child care to folks who are in desperate need of it.
I think about the approach that was going to be taken in the Build Back Better plan. That approach would have increased — according to the progressive think tanks — increased the cost of child care from $15,888 to around $29,000. In an attempt to make child care more affordable, I think they would have made child care less affordable. …
If we want to see folks coming back to work, solving this problem, bridging the gap is so critically important to the kids who are literally looking for a safe place to learn, parents who are looking for a way to be able to have their kids in a safe environment — a good environment — so they can continue to work because you can't be at work and at home at the same time. And we saw that challenge exacerbated throughout the pandemic. … So one of the things I've done over the last four or … maybe six years [or so] is make sure that we kept the choice in the hands of the parents…
And today I introduced legislation — the Child Care and Development Block Grant (CCDBG) Reauthorization Act of 2022 — because the child care and development block grant program has assisted working families and their children for more than 30 years, all while ensuring that parents have maximum freedom to make the best decisions for their children. … This is a lifeline for low-income [parents] looking to participate in the workforce or continue their education.
This bill also traditionally enjoyed immense bipartisan support. That's why we are actually having a conversation, in my opinion, today. My new bill would make responsible enhancements to the CCDBG program to better support America's working families.
###